Switch your energy plan to the cheapest one from 6 newly launched energy tariffs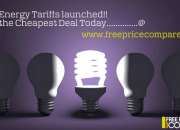 Data of ad
Published
05 of October

/ 05:55hs
Details of ads
Efficient use of electricity and using power saver equipment is always advisable but this is not enough if you are a smart consumer. You should think about switching especially when few new tariffs announced by energy suppliers.
According to a study conducted by Competitions and Markets Authority (CMA) says "Around 70% consumers are using energy through expensive tariffs while cheaper tariffs available in the market!!!".
Dual fuel subscribers who are mainly failed to save upto £160 a year only because of going ahead with expensive tariff plans while few cheaper plans are available in the market.
This month there are many new tariffs (approx. 12) launched by leading suppliers like Npower, Green Star Energy, First: utility, SSE and Extra energy.
Here I would like to list out few of them so you can get insight into the new deals…
13th July 2015
Online Price Fix October 2016 by Npower
09th July 2015
SSE 1 year fixed by SSE
M&S Energy Fix & More Nov 16 by SSE
03rd July 2015
Bright Fixed Price Nov 2016 V1 by Extra Energy
Clear Fixed Price Nov 2016 V1 by Extra Energy
Fresh Fixed Price Nov 2016 V1 by Extra Energy
There are few others from First Utility, Green Star Energy too. Now switching is easier than ever with UKs #1 price comparison website www.freepricecompare.com
You can find the cheapest energy deals here for both gas and electricity and also for both Home and Business use. You can call our energy expert at 0203 4757 476.