Live Online Tutoring for Math & Science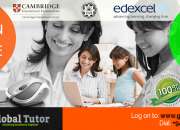 Data of ad
Published
20 of August

/ 08:39hs
Details of ads
Our live online tutoring sessions are interactive, engaging and comprehensive. This unique Learning Management System has the ability to provide customized live online tuition/ revision classes to students at the comfort of their own homes. Global Tutor does not only cater to students' convenience and affordability, we also provide our students, parents, and collaborated schools with the exposure to the global arena of innovative education. Thus, we offer a wide array of academic courses which students can choose to follow.

At present, Global Tutor provides live online tutoring for students in Grade 6 through 11 Mathematics, Science and English in Local/Edexcel/Cambridge syllabuses.

Apart from the courses mentioned above, we also provide students an opportunity to request tutoring for other subjects they may need individual attention. Thus, Global Tutor also caters to On-Demand classes to provide students both locally and internationally to achieve academic excellence through education innovation.

We have a complete free demo session to experience how are classes are being conducted, simply copy the following link in your browser and sign up, and we will contact you: www.globaltutor.org/signup
Contact us via Phone: +94114222440 Skype: tutor.global Or send us an email: info@globaltutor.org

We are always here to serve you with our best...