New Replacement Sony VGP-BPS9 Battery Sale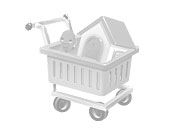 Data of ad
Published
24 of August

/ 01:25hs
Details of ads
We provide brand new Sony VGP-BPS9 laptop battery. It is replacement for your laptop battery with high quality. The Sony vgp-bps9 laptop Battery is designed to be compatible with Sony VGP-BPS9 part number.
This battery replace with Sony VGP-BPS9A, Sony VGP-BPS9A/B and Sony VGP-BPS9B battery.
We guarantee the Sony VGP-BPS9 battery meet or exceed original specifications, full one year warranty. We committed to provide a reliability products at an affordable price! Welcome order on the battery detail page: UK battery shop: http://www.battery-store.co.uk/batt-4-laptop/sony-vgp-bps9.htm.
US Battery Shop: http://www.notebook-battery.us/notebook-battery/sony-vgp-bps9.htm.