Exclusively offer you a nice house for sale in the Czech Republic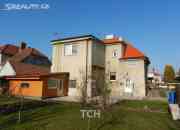 Data of ad
Published
30 of July

/ 02:01hs
Details of ads
Exclusively offer you a nice house for sale in the Czech Republic in the Hradec Kralove region with a garden, plot 800 m2. At the house garage, workshop, garden house, house is renovated, garden situated on the south, you can install solar panels on the roof and to be self-sufficient in electricity, the state buys surplus electricity at guaranteed prices for 20 years. Technical assistance is provided. The layout of the house: two complete apartments furnished 3 +1.
The house can be used for business - headquarters, offices, parking on the property or in front. For a large buyout firm will ensure adjacent similar property, the owner got divorced and pay real estate needs.
Distance to Prague property 60 km to 20 km Hradec Kralove, D11 motorway connections Prague-Hradec Kralove, buses and trains in all directions.