Prevent frost from sticking to a car windscreen this winter by buying this ingenious tool
Published: 21 of November of 2019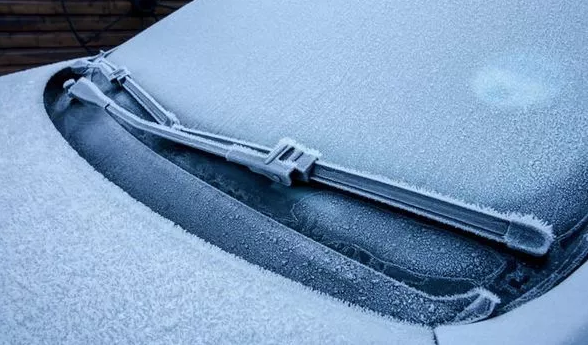 FROST will stick onto a car windscreen during the cold winter months and will create a thin layer of ice to block a road users road visibility.
Frost can be cleared with some simple methods such as using de-icer tools or a simple de-icer spray. However, motorists can prevent frost and ice from building up on a car in the first place with this ingenious device.
Frost guard blankets are thick materials that completely cover a car windscreen and prevent frost from sticking to the vehicle.
The clip shows the car windscreen is left completely dry after the cover is removed despite snow covering every part of the vehicle.
It's a quick solution to motorists with limited time on their hands who can leave in seconds instead of picking each section of ice away in the freezing cold.
The flaps of the protector are locked inside the vehicle making it very difficult to fly off in the wind or be stolen during the night.
A clip of the tool has gone viral on social media and achieved over 77,000 retweets and over 350,000 likes in just a week.
The original uploader added: "Helps cut down time when getting ready in the morning. I have his defroster spray activator that I use on the rest of my windows that speeds up the defrosting process."
Mass market frost covers are made of heavy-weight polyester with a weather-resistant PVC lining.Covers are built to survive even the toughest winter conditions and will not easily rip or split when on the windscreen.
They are also easy to store and can be easily folded down into a small bag which can be placed somewhere safe inside the vehicle.

Frost covers are popular in the United States but British owners can order these online or through internet marketplaces with ease.

A quick search on Amazon shows that a top-of-the-rage frost cover was available to purchase for as little as £17.89.

Online product reviews highlighted some British motorists had already snapped up the invention, with a happy buyer purchasing from Scotland.
He added: "The material quality is good, it's nice and thick. It folds down into a nice little bag which fits down between my door and driver seat so I can always remember to put it on at night. The magnets are strong and will withstand a lot of wind."

Halfords offers a multi-use alternative to the thick frost covers with their all seasons designs which they claim can protect your vehicle from environmental factors such as snow, ice and tree sap.

Most covers can also be used again in the summer months as a heat protector to stop your interior burning up before you head out on a journey.

However, cash-strapped motorists who do not wish to invest in a frost cover can use alternative homemade designs instead.
Placing a towel over your windscreen before the evening will stop the majority of frost and ice getting onto your windscreen.

Frost can also be removed within seconds by filling a sandwich bag with lukewarm water and gently rubbing it over the affected area.

Motorists should always fully clear their car windscreen of frost and ice before heading out on a journey as this can be a safety risk.

Not being able to see road hazards or pedestrians effectively could lead to a safety problem and this could cause police officers to get involved.

Authorities can issue a £60 fine for failing to clear a windscreen of frost and ice but the bill could increase in extreme situations.

Driving with poor visibility can constitute a dangerous driving offence which could leave motorists with points on their driving licence.
Source: https://www.express.co.uk/life-style/cars/1207308/frost-cover-ice-car-windscreen-winter-uk
Ads that might interest you